Call us today for more info on portable storage buildings in the Columbus MS area.
Ace Portable Buildings

is the place for wood or metal carports, garages, barns & RV covers steel buildings and storage sheds!

Ace Portable Buildings is looking at the future in the portable building industry. With an all-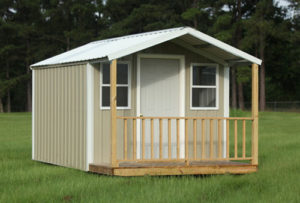 treated floor and G90 Galvanized framing, Our buildings are head and shoulders above the rest of the industry in terms of quality. Unlike most portable buildings, which are designed to last the length of a rent-to-own contract and require expensive maintenance and upkeep, our buildings are designed to give lasting service over many years with minimal upkeep. No more sagging wooden doors that won't close. No more treating for termites. No more re-staining and re-sealing warped and faded wall panels. No more having to install hardware and a padlock to keep your stored items safe. Our buildings are truly a long-term storage solution.
What could be better than a portable building that will give good service for 5-10 times as long as a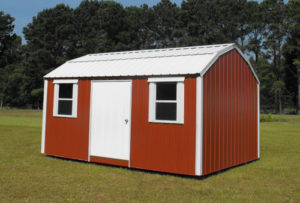 normal portable building? A portable building that does all of this at a competitive price point! By keeping all of our construction, administration and delivery in-house, and developing innovative building designs, we are able to offer everything from storage sheds & carports, to cabanas and cabins, at a price that is competitive or in some cases cheaper than other storage buildings from our competitors.
If you are looking for a superior quality portable building at a great price, please visit us today.
We're located at 1514 Main St in Columbus MS. Click here for directions
We also have a great selection of wooden portable storage buildings, including garages, barns, as well as storage sheds and cabins, serving the Columbus, MS area.